Job Search Tools BOOT CAMP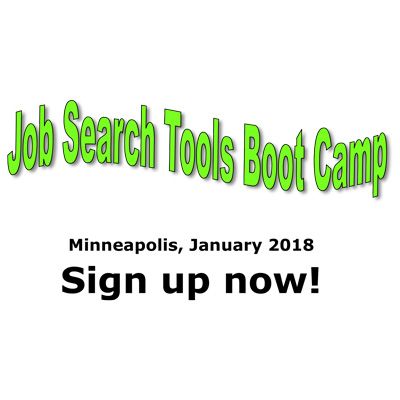 Part Number:
Fee:$329.00
JOB SEARCH TOOLS BOOT CAMP
Resume and LinkedIn (AND a bonus)
Tired of the weak response to your resume?
Getting no response to your LinkedIn profile from recruiters, HR, or hiring managers?
Then stop doing the same old thing. Do something different – that works!
Back by popular demand, Joanne Meehl ("The Job Search Queen") is offering a 3-week group "boot camp" for your main job search marketing tools. She'll work with each group member in each of the sessions.
Reviews from earlier Boot Camps:
· "The deadlines helped me get it all done...I wouldn't have done this if I had to do it myself."
· "Seeing what employers look for today in a resume and LinkedIn was wonderful. For the first time, I'm confident this new resume will get me more interviews."
· "Joanne taught about today's technology, like resume screening software and the tools that recruiters use to find people on LinkedIn."
Here's what you'll get:
New Resume – top to bottom, not "tweaked"
Weeks 1 and 2: Do's and Don'ts – Using fresh language – How to use success stories – See examples of real, winning resumes – Resume creation and how to best use the resume – How to customize it for each employer – How recruiters look at your resume – Tips and secrets - Individual review by Joanne. BONUS: Today's Cover "Letters" AND we'll start your NEW LinkedIn profile. 
LinkedIn Profile that will get more hits
Weeks 2 and 3: Using your new resume to populate your LinkedIn profile - Do's and Don'ts – How recruiters' tools find candidates' profiles, and can find yours – The Summary - Endorsements – Using LinkedIn to expand your network – Getting GREAT recommendations – Following gurus, companies on LinkedIn – Examples of great profiles that get results – Groups: how they help you – Content – The latest tips on becoming more visible and getting FOUND
When
Three Tuesdays: January 16, 23, 30, from 1:30-3:30 pm
at the Maple Grove Library
Limited seating: max 10 people only – Pay at the first meeting (Visa, M/C, Discover, checks)
Deadline to reserve a spot: 5pm on Mon. January 15th!
Cost
There are "resume writers" who charge $350 for a 20-minute conversation with you, then send you a resume you're pretty much stuck with, which still may not work. That's NOT what this is.
Joanne will work with each group member during the sessions, so that each gets her personal attention, and you'll get the perspective of the other group members.
To work with you individually, Joanne would have to charge several times more than the fee for working within a small group. So instead of the 2015 fee of $397, this January 2018 Special fee is a ridiculously low $329! Compare that to what you'd pay others for a resume alone. You'd be working with one of THE nation's resume and job search experts. Invited to join the Forbes Coaches Council, Joanne contributes to Forbes.com articles, and is a speaker on her favorite career topic, "your career is the treasury of your life."
PLUS Joanne's Boot Camps are fun! (That's why she likes to do them!)
Sure, there is free stuff on the net, at networking groups, and so forth. But do they work? Are they tailored for YOU?
Are they up to date, and show what Hiring Managers want to see? Do you get personal attention from an expert whose clients get results? Here, you will!
Better yet, if you pay online before 5pm on January 15th, the fee will be $297! You save $32!
At this rate, seats will go fast so sign up today by adding this item into your shopping cart now.
Why is the cost low? Because Joanne believes in helping people of all budgets, but who want quality content that WORKS in this still-competitive market. The group environment allows her to give personal attention to each person.
· "Joanne covered the material advertised very well and gave us bonus material along the way."
· "Joanne's individual help was wonderful!"
· "I learned so much about LinkedIn. What I had was totally ineffective but now my profile gives me confidence." 
Questions?
Email Joanne at Joanne@TheJobSearchQueen.com, Subject line: Boot Camp