Traveling on Business? Two Vital Things to Do For Your Job Search While On the Road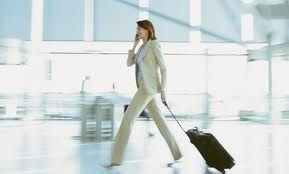 Posted:
Mar 23rd, 2014
9:03 am
by: Joanne Meehl
Your job search is going well despite your limited time, but now you have to make a business trip or two for your current employer (or your own business). But you want to keep your job search momentum going.WomanBusinessAirport
Here's how: You won't have luxuriously long blocks of time while traveling on business (or ever, at times). You're busy as it is, and you have clients to attend to, as well as Webex meetings with people back at headquarters, planes to catch, a car to return.
If you think you must spend hours at job search while dealing with a demanding travel schedule, you won't do the search at all.
So instead, 1. set aside time for short bursts of activity -- a half-hour or even just 15 minutes at a time. And 2. have a plan for those time slots so that those minutes are well-spent and help your search.
What do you do in this time?
You can do research while on the road. LinkedIn is your best friend:?
Learn about companies you're seeing on LinkedIn, for example, when you look for and find people who have the kind of job you're after.
Then line up the people at those companies you want to talk with. Do you have a connection on LinkedIn who can introduce you? If so, right from your hotel room, send an email to that person requesting the introduction, or use LinkedIn's introduction feature. Set up meetings for when you're back.
Are you in any of the same LinkedIn Groups that your target connections are in? If so, you can contact these fellow members directly through the group without using any of your InMails (click on the Members tab).
While on the road, it's easy to spend available periods of time in this Groups section of LinkedIn. Read the discussions to see what people are talking about; this helps you get out of your own silo. Contribute to the group's discussions so that you're helping someone, and so you get known, making it easier to connect with new people.
So use some gaps in your travel schedule to keep your momentum going. Short bursts will pay off in the long run.
______________________________
Want more help from Joanne? Check out her Career Consult meeting.